Environmental and Social Impact Assessments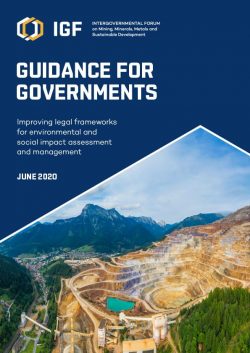 IGF's Mining ESIA Tool (MET)
A modern legislative regime draws clear lines of responsibility and accountability and establishes a foundation of good governance that leads to sustainable development benefits over the full life cycle of a mine, from the early days of exploration through to post-mining transition.
Legal frameworks that seek to effectively minimize the mining sector's negative impacts and optimize its benefits use a permitting process requiring developers to submit and employ integrated environmental and social impact assessments (ESIAs) and related tools, such as environmental and social management plans and closure plans.
With social and environmental regulations varying across jurisdictions, a survey of global best practices helps build an informed perspective from which to assess a regime governing the environmental and social impacts and benefits in the mining sector.
When a legal framework adequately addresses the timing, scope, implementation, monitoring, and enforcement processes of ESIAs and related management frameworks, governments and other stakeholders have a roadmap for managing impacts and optimizing social and economic benefits related to mining.
The IGF Secretariat's Guidance for Governments: Improving Legal Frameworks for Environmental and Social Impact Assessment and Management offers IGF member states a summary of international best practices in legal frameworks for ESIA and related management plans for large-scale mines. It includes examples, strategies, and tools to aid in evaluating and improving legal frameworks and environmental and social aspects of resource governance.

ESIA and management responsibilities by mine phase (click to enlarge).
IGF's Mining ESIA Tool (MET)
To implement this guidance, the IGF has developed the Mining ESIA Tool (MET) to help member governments identify gaps in their institutional capacity, as well legal and policy frameworks and practices, pertaining to ESIAs specifically for the mining sector.
The MET contains a quick scan for high-level diagnostics as well as a detailed scan that gives policymakers a more comprehensive understanding. Importantly, the MET process facilitates engagement and dialogue between diverse stakeholders in the mining, social, and environmental spheres. The tool is available in English, French, and Spanish by request.
If you would like to use this tool or request broader support on ESIA in mining in your country, contact Secretariat@IGFMining.org.
The IGF's mining-specific tool was modelled on broader ESY-Map diagnostic tool, developed by the Netherlands Commission for Environmental Assessment in collaboration with the Southern African Institute for Environmental Assessment.
Video: The IGF's Mining ESIA Tool (MET)
Why Is IGF Working on ESIAs?
At the 2017 Annual General Meeting (AGM), IGF member countries voted for the fourth IGF Guidance for Governments to focus on helping governments implement the Legal and Policy Environment element in the IGF's flagship Mining Policy Framework (MPF).
Recognizing that improper regulation of the mining sector can lead to lost benefits and harmful environmental, social, and economic outcomes, IGF members identified ESIAs and related plans as essential tools for effective management of mineral resource development.
Unfortunately, ESIAs are often poorly implemented in the initial phases of mining projects or inappropriately monitored during subsequent operational phases. As a result, mines often operate with insufficient environmental and social management plans and no closure plans or related financial guarantees. This can lead to conflicts between governments and mining companies at later stages of the operation. In some cases, mines have been simply abandoned, leaving local communities and governments with high environmental, economic, and social costs.
While professional organizations have published technical guides on ESIA, guidance on law and policy frameworks for ESIA and related management plans are largely lacking in the literature. This guidance document aims to fill this gap for governments and other stakeholders seeking to improve their legal frameworks and to manage the mining sector's environmental and social impacts.
Guidance Based on Comprehensive Research
Two IGF studies inform this guidance. The first, Background Document: Legal Framework of Environmental and Social Impact in the Mining Sector, was published in January 2019 in English and French. The background document identified trends in legal frameworks for ESIA and related management plans in the mining sector. A second IGF study from 2018 to 2019 involved further review of ESIA and management plans in legislative frameworks and mining contracts.
Public and Stakeholder Consultations
To ensure that this guidance document reflects IGF members' priorities and the experiences of all stakeholders, the IGF held a series of consultations, including a scoping consultation with stakeholders at Mining Indaba 2018 in Cape Town, South Africa. The IGF also consulted with members during its 2019 AGM and conducted an online public consultation on a draft version of the guidance between October 2019 and March 2020. The IGF has subsequently consulted with selected expert organizations.
The IGF is grateful for the contributions of the International Association for Impact Assessments (IAIA), the International Council on Mining and Metals (ICMM), Natural Resources Canada (NRCan), the Netherlands Commission for Environmental Assessment (NCEA), and the Secrétariat international francophone pour l'évaluation environnementale (SIFÉE) in the development of this guidance document.
Our Drafting Team
This report was developed under the supervision of H. Suzy Nikièma and Clémence Naré. It was written by Kristi Disney Bruckner, Clémence Naré, Jenifer Hill, H. Suzy Nikièma, Jill Baker, and Carolina Leseigneur Torres, with significant contributions from Luke Danielson and Marina Ruete.
More Information
For more information, please contact Clémence Naré at cnare@iisd.ca.