Environmental and Social Impact Assessments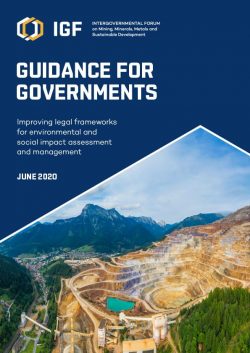 A modern legislative regime draws clear lines of responsibility and accountability and establishes a foundation of good governance that leads to sustainable development benefits over the full life cycle of a mine, from the early days of exploration through to post-mining transition.
Legal frameworks that seek to effectively minimize the mining sector's negative impacts and optimize its benefits use a permitting process requiring developers to submit and employ integrated environmental and social impact assessments (ESIAs) and related tools, such as environmental and social management plans and closure plans.
With social and environmental regulations varying across jurisdictions, a survey of global best practices helps build an informed perspective from which to assess a regime governing the environmental and social impacts and benefits in the mining sector.
When a legal framework adequately addresses the timing, scope, implementation, monitoring, and enforcement processes of ESIAs and related management frameworks, governments and other stakeholders have a roadmap for managing impacts and optimizing social and economic benefits related to mining.
The IGF Secretariat's Guidance for Governments: Improving Legal Frameworks for Environmental and Social Impact Assessment and Management offers IGF member states a summary of international best practices in legal frameworks for ESIA and related management plans for large-scale mines. It includes examples, strategies, and tools to aid in evaluating and improving legal frameworks and environmental and social aspects of resource governance.