Environmental and Social Impact Assessments
A modern legislative regime provides clear lines of responsibility and accountability. Such a regime establishes a foundation of good governance that leads to the creation of sustainable benefits over the life of the mine. It includes a permitting process requiring the submission of integrated environmental and social impact assessments (ESIAs).
The IGF's Guidance for Governments: Legal Framework of Environmental and Social Impact Assessment in the Mining Sector is a tool to support policy-makers in developing new legislative regimes. It is part of a suite of guidance products created by the IGF for its member governments.
Why is the IGF working on ESIAs?
At the 2017 Annual General Meeting (AGM), IGF member countries voted for the fourth Guidance for Governments to focus on helping governments implement the Legal and Policy Environment of the Mining Policy Framework (MPF). ESIAs are essential tools for any process related to the granting of environmental permits or mining authorizations. Unfortunately, ESIAs are often poorly implemented in the initial phases of mining projects or inappropriately monitored during subsequent operational phases.
As a result, mines often operate with insufficient environmental and social management plans and/or no closure plans or related financial guarantees. This can lead to conflicts between governments and mining companies at later stages of the mine operation or near the expected end date of operations. In some cases, mines are simply abandoned, leaving local communities and governments with heavy environmental, economic and social impacts.
Permitting processes that adequately address the timing, scope, development and closure of mine developments can lead to enhanced environmental, social and economic outcomes during the life cycle of the mine.
Timeline for guidance document development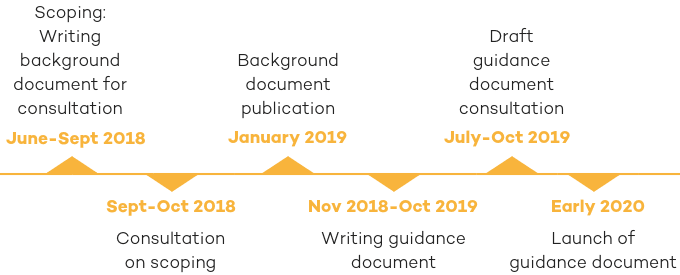 Consultation
The purpose of this background paper, available in English and French, is to identify the issues and problems related to the legal framework of ESIAs and related plans in legal and regulatory frameworks. It also delves into the implications for how the mining sector is governed, while exploring avenues for action and reflecting on appropriate solutions.
We are continuing to host a public consultation for feedback on the background document, which you can access online in English or French. Email us at secretariat@igfmining.org to submit your comments.
English Background Document French Background Document
Our Experts
Jill Baker is a senior environmental and social assessment specialist with Golder Associates with more than 20 years of experience in environmental policy and ESIA practice.
Kristi Disney Bruckner is the executive director of Sustainable Development Strategies Group. She is an attorney with over 15 years of experience working on complex international law and policy issues with a focus on the mining sector.
Luke J. Danielson is the president and co-founder of Sustainable Development Strategies Group. He is an attorney, professor, researcher and consultant on mineral policy, national development strategies, and environmental and social performance in the mining and oil and gas industries.
Clémence Naré is the outreach manager and law advisor with IGF, responsible for supporting member countries in developing sustainable resource extraction laws, policies and programs.
Suzy Nikièma is an international law advisor for IISD's Economic Law and Policy Program (ELP). She provides legal and policy advice on sustainable investment and leads training sessions on mining issues in Africa with the IGF.
Marina Reute is a senior international and comparative law advisor with the IGF. Her work with the IGF focuses on implementing international best practices on mining policy and law with a focus on Latin America and the Caribbean
Carolina Leseigneur Torres is an environmental impact assessment specialist and terrestrial biologist with Golder Associates, who focuses on developing environmental approvals and permits for mining and other sectors.