**Español a seguir** 
Because it relies heavily on the mining sector, Bogotá was an appropriate backdrop for the first-ever training on International Taxation and the Mining Industry aimed at Latin American and Caribbean (LAC) countries, which took place from November 17 to 21, 2019. The Intergovernmental Forum on Mining, Minerals and Metals (IGF), the Organisation for Economic Co-operation and Development (OECD), the Inter-American Center of Tax Administrations (CIAT), and the University of "Externado de Colombia" joined forces to make this a reality.
More than 30 government officials from several Latin America and Caribbean countries representing tax administrations, ministries of finance and ministries of mines attended. They exchanged experiences, presented challenges and discussed issues around domestic and international taxation relating to the mining sector.
The four-day program fostered the harmonization of the knowledge level on the mining value chain and its main base erosion and profit shifting (BEPS) risks for different representatives from LAC countries at domestic and regional levels. Topics such as tax treaties, indirect transfers of mining assets, transfer pricing and mining tax incentives were discussed.
Here are some of the main takeaways:
1. One for all, all for one
Tax administrations, ministries of finance and ministries of mines play key roles in increasing mining revenue collection; therefore, it was extremely valuable to have several representatives from each of these institutions at the table, talking with each other (in some cases for the first time), trying to solve problems, and identifying opportunities to improve.
BEPS risks exist along the mining value chain, starting at exploration, then on to the development, mining, smelting and selling stages. The three government agencies mentioned above have vital roles to play at each stage. The ministries of mines have an essential role  during the exploration stage when granting the mining licence or signing mining contracts. Tax administrations collect revenues once a mining company starts generating profits. Ministries of finance may be responsible for setting the overall mining tax policy framework, as well as determining other aspects of tax law that interact with the mining sector, such as tax treaties.
The LAC training was useful for all government agencies to realize that no matter where in the mining value chain they intervene, it is important to understand all activities and processes within each stage, including functions, assets and risks borne by mining companies. It is not surprising that governments that rely on mining revenues are willing to set up taskforces consisting of several agencies to work together on shared interests, as is the case in the Dominican Republic, we learned.
2. More can be done by LAC countries to address BEPS challenges in the mining sector
LAC representatives acknowledged the strengths and limitations of the existing mining tax and regulatory systems.
While most LAC countries have implemented transfer pricings regulations, more simplified approaches may be required in the case of minerals which make up a significant part of the economy in many developing and low-income countries. Some LAC countries opted to introduce the so-called sixth method, for example, as an anti-avoidance measure that primarily seeks to avoid the manipulation of prices, determining the date of shipment or delivery of the commodity as the date of the transaction.
Some measures that representatives said were urgently needed included renegotiation of unfavourable tax treaties, rethinking the use of tax incentives granted to the mining sector, and the implementation of rules to avoid undervaluation of minerals. Moreover, a few countries questioned their own mining fiscal regimes, suggesting interesting modifications that could potentially increase revenue collection.
The 2015 agreed package of BEPS measures and the CIAT "Cocktail of measures for the abusive manipulation of transfer pricing with focus in developing and low-income countries" set out international proposals for countries to consider improvements in their tax systems that could lead to mining companies paying a reasonable level of taxes—and thus respecting the general taxation principles.
3. From learning lessons to implementing reforms: Where to go from here?
A lot of ideas and knowledge were exchanged during the four-day workshop. Government representatives strongly expressed their intention to use the acquired knowledge and experience in their daily work, to share materials with colleagues, and to write reports to their authorities suggesting changes in policy or administrative procedures based on discussions at the workshop.
International or regional workshops are often the first step to initiating a change process because their multilateral and multicultural features provide the perfect arena to raise ideas that could be the basis of serious proposals affecting policy and administration. These proposals can then be supported by international and regional organizations and peers through internships, technical assistance and, of course, training. The role of CIAT, OECD, IGF and individual countries in the production of databases and technical publications is critical since they are good sources of knowledge that assist countries in making informed strategic decisions.
The LAC Workshop was also an opportunity for the IGF and OECD to commit to working with Colombia in a two-year technical assistance program on mining tax policy and administration under the BEPS in Mining Program.
For more information, contact us at secretariat@igfmining.org, GArias@ciat.org, or ctp.communications@oecd.org.
Promoviendo una mayor recaudación tributaria minera: nuestra experiencia en Bogotá
En vista de que depende en gran medida del sector minero, Bogotá fue un telón de fondo apropiado para la primera capacitación sobre Tributación Internacional y la Industria Minera, dirigida a los países Latinoamericanos y del Caribe que se llevó a cabo del 17 al 21 de noviembre de 2019. El Foro Intergubernamental sobre Minería, Minerales, Metales y Desarrollo Sostenible (IGF), la Organización para la Cooperación y Desarrollo Económicos (OCDE), el Centro Interamericano de Administraciones Tributarias (CIAT) y la Universidad Externado de Colombia unieron fuerzas para hacerlo realidad.
Asistieron más de 30 funcionarios gubernamentales de diversos países Latinoamericanos y del Caribe, representando a las Administraciones Tributarias, Ministerios de Finanzas y Ministerios de Minas. Los mismos intercambiaron experiencias, presentaron desafíos y analizaron temas sobre la tributación nacional e internacional relacionados con el sector minero.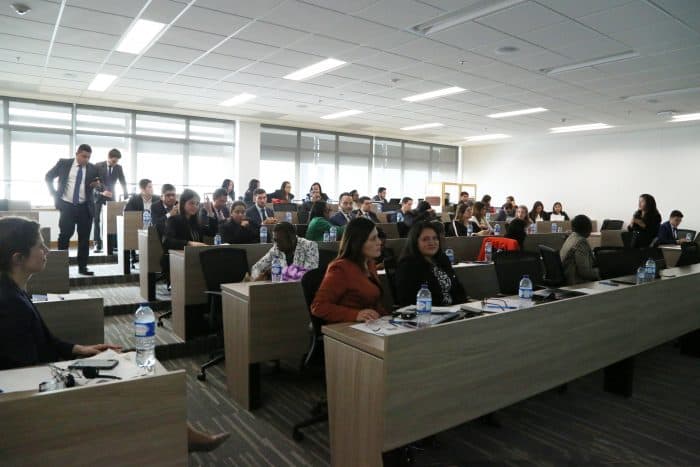 El programa de cuatro días promovió la armonización del nivel de conocimiento sobre la cadena de valores mineros y sus principales riesgos de erosión de bases y traslado de beneficios (BEPS) para diferentes representantes de los países de LAC a nivel local y regional. Se discutieron temas tales como tratados tributarios, transferencias indirectas de activos mineros, precios de transferencia e incentivos tributarios mineros.
He aquí algunos de los principales resultados:
1. Uno para todos, y todos para uno
Las Administraciones Tributarias, Ministerios de Finanzas y Ministerios de Minas juegan un papel clave en el aumento de la recaudación de ingresos mineros. Por lo tanto, fue extremadamente valioso tener juntos en la mesa a diversos representantes de cada una de estas instituciones; conversando entre sí (en algunos casos) por primera vez, tratando de resolver problemas, así como identificando oportunidades de mejoras.
Los riesgos BEPS existen a lo largo de la cadena de valores mineros comenzando con la exploración y continuando con las etapas de desarrollo, minería, fundición y ventas. Las tres agencias gubernamentales anteriormente mencionadas, desempeñan papeles claves en cada una de las diferentes etapas. Los Ministerios de Minas juegan un papel clave en la etapa de exploración al otorgar la licencia minera o firmar contratos de minería. Las Administraciones Tributarias recaudan los ingresos una vez que una compañía minera empieza a generar ganancias. Los Ministerios de Finanzas pueden ser responsables de establecer el marco general de la política tributaria minera, así como determinar otros aspectos del derecho tributario que interactúan con el sector minero – como los tratados tributarios, por ejemplo.
La capacitación LAC resultó útil para que todas las agencias gubernamentales se percataran de que, independientemente de donde intervengan en la cadena de valores mineros, es importante entender todas las actividades y procesos de cada etapa, incluyendo las funciones, activos y riesgos soportados por las compañías mineras. No resulta sorprendente que los gobiernos que dependen de los ingresos mineros estén dispuestos a establecer fuerzas de tareas formadas por varias agencias, a fin de trabajar juntas en intereses comunes, como nos enteramos que es el caso de la República Dominicana.
2. Los países LAC pueden hacer más para enfrentar los retos del BEPS en el sector minero
Los representantes LAC reconocieron las fortalezas y limitaciones de los sistemas existentes de tributación y regulación de la minería.
Aunque la mayoría de los países LAC han implementado reglamentos sobre precios de transferencia, se pueden requerir enfoques más simplificados en el caso de minerales que constituyen una parte significativa de la economía en muchos países en desarrollo y de bajos ingresos. Algunos países LAC optaron por introducir el llamado sexto método; por ejemplo, como una medida anti-elusión que principalmente busca evitar la manipulación de precios, determinando la fecha de envío o entrega de la mercancía como la fecha de la transacción.
La renegociación de tratados tributarios desfavorables, reconsideración del uso de los incentivos tributarios otorgados al sector minero, y la implementación de reglas para evitar la subvaloración de minerales, eran medidas que según algunos representantes se requerían urgentemente. Además, unos cuantos países cuestionaron sus propios regímenes fiscales mineros, sugiriendo interesantes modificaciones que potencialmente podrían aumentar la recaudación de ingresos.
El paquete acordado de medidas BEPS de 2015  y el  "Cóctel de medidas para la manipulación abusiva de los precios de transferencia enfocadas en los países en desarrollo y de bajos ingresos" del CIAT plantearon propuestas internacionales para que los países consideren mejoras en sus sistemas tributarios, de modo que las compañías mineras paguen un nivel razonable de impuestos.
3. Del aprendizaje de lecciones hacia la implementación de reformas: ¿Hacia dónde nos dirigimos desde aquí? 
Se intercambiaron muchas ideas y conocimiento durante el taller de cuatro días. Los representantes gubernamentales expresaron firmemente su intención de utilizar el conocimiento y experiencia adquiridos en su trabajo diario; de compartir materiales con los colegas y de redactar informes dirigidos a sus autoridades sugiriendo cambios en la política o procedimientos administrativos en base a las discusiones realizadas en el taller.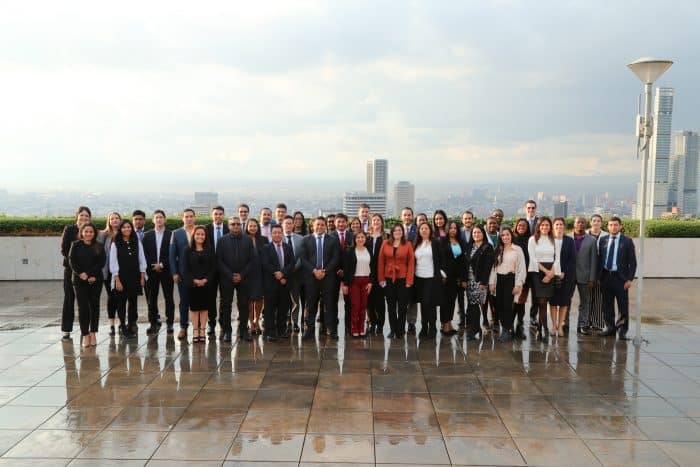 Con frecuencia los talleres internacionales o regionales constituyen los primeros pasos para iniciar un proceso de cambio, dado que sus características multilaterales y multiculturales proveen el ambiente perfecto para plantear ideas que pueden constituir la base de propuestas formales con impacto en la política y administración, y que pueden ser respaldadas por organizaciones internacionales y regionales, así como los pares a través de internados, asistencia técnica y, por supuesto, la capacitación. El papel del CIAT, OCDE, IGF y los países individuales en la producción de bases de datos y publicaciones técnicas es clave, constituyendo buenas fuentes de conocimientos que asisten a los países a tomar decisiones estratégicas informadas.
El Taller LAC también constituyó una oportunidad para que el IGF y la OCDE se comprometieran a trabajar con Colombia en un programa de asistencia técnica de dos años sobre administración y política tributaria minera según el Programa de BEPS en la Minería.
Para mayor información comunicarse con secretariat@igfmining.org, GArias@ciat.org, o ctp.communications@oecd.org.