Drivers of change—from the affordability of renewable energy to government policies to the world's commitment to reduce carbon dioxide emissions—have created the perfect environment for the rise of low-carbon technology. Although it is not widely recognized, clean energy technologies such as wind, solar and batteries are actually more material-intensive than current traditional fossil-fuel-based energy systems. Meanwhile, demand for minerals and metals such as copper, lithium, cobalt, graphite and nickel—all of which are used in low-carbon technologies—will gather pace in the future, and sustainable and reliable extraction and production will need to keep up. According to the World Bank's own analysis, global production of critical minerals used in low-carbon technologies is projected to rise by 965 per cent for lithium, 585 per cent for cobalt, 383 per cent for graphite, 241 per cent for indium and 173 per cent for vanadium by 2050.
At a time when the world is shifting to a low-carbon future and combating climate change, development institutions are accelerating commitments to change the way we source minerals and metals. At the Annual General Meeting of the Intergovernmental Forum on Mining, Minerals, Metals and Sustainable Development, the Netherlands' Ministry of Foreign Affairs announced their support of the World Bank's Climate-Smart Mining Facility, a first-of-its-kind fund designed to make mining for low-carbon minerals and metals climate-smart and sustainable. The ministry has committed USD 1 million to the facility and plans to commit USD 4 million more. The trust fund brings together governments, industry, financial institutions and private investors to support the responsible extraction and processing of minerals and metals, while minimizing social, environmental and climate footprints. It aims to help developing countries and emerging economies benefit from the skyrocketing demand for low-carbon minerals, taking a circular economy approach and reusing minerals in a way that respects the environment.
Without climate-smart mining practices, the energy transition will not be truly clean. Challenges will emerge and negative impacts from mining activities will increase, affecting vulnerable communities and environments and potentially endangering progress on tackling climate change. If unchecked, the volume of mining over such a short time frame (between 2020 and 2050) would increase global emissions, water use and global waste, and potentially result in conflict among communities. The Netherlands supports the Climate-Smart Mining Facility because it mitigates against these risks and works with public and private partners to manage natural resources responsibly, maximize the life cycle of the metals and minerals we use, and extract strategic metals and minerals in an environmentally sensitive manner.
While this presents a global challenge, it is also an opportunity for mineral-rich developing countries and emerging economies like the Democratic Republic of the Congo (DRC), India, Colombia and Peru. For example, the DRC will see a huge surge in demand for cobalt due to the production of batteries for electric vehicles: DRC currently supplies over 65 per cent of cobalt in the global market and is expected to supply more than 73 per cent by 2023.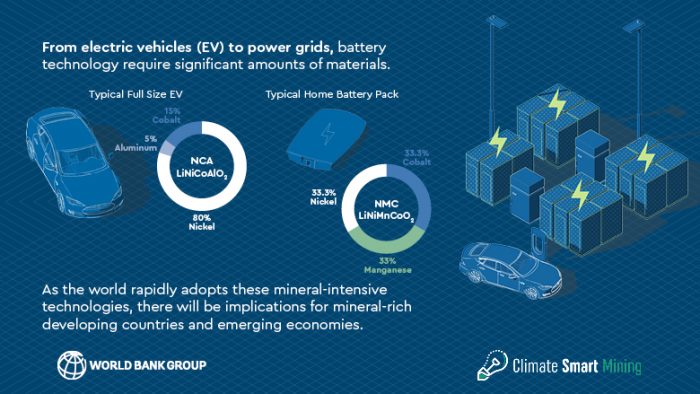 The Netherlands' Ministry of Foreign Affairs and the World Bank want to build a world where governments and companies use renewable energy to power mines, recycle minerals and leverage innovation to reduce the industry's footprint. We are excited to embark upon this journey and look forward to working with a range of actors to conduct responsible and sustainable mining that protects both people and the planet and fosters growth and development.