The year is 2045.
The Sustainable Development Goals (SDGs) have been achieved: poverty has been eradicated; renewable energy powers the globe; gender equality is widespread; and worldwide terrestrial and water ecosystems are thriving.
We made this happen—but how? What actions were taken in the last 25 years to bring us to an age of peace, prosperity, and progress?
On February 29, more than 150 leaders in the minerals industry—from governments, civil society, and the private sector—came together to answer these questions at the annual Sustainability Forum. The event was co-hosted by the Intergovernmental Forum on Mining, Minerals, Metals, and Sustainable Development (IGF), the Prospectors & Developers Association of Canada (PDAC), and the World Economic Forum (WEF) and facilitated by Watershed Partners.
Participants were asked to reflect on specific changes that need to occur in the minerals industry in order to make it more sustainable. While some changes are already underway, many others demand greater prioritization; in light of this, we set out to create a plan of action to determine what's actually needed to get us to this ideal scenario in 2045.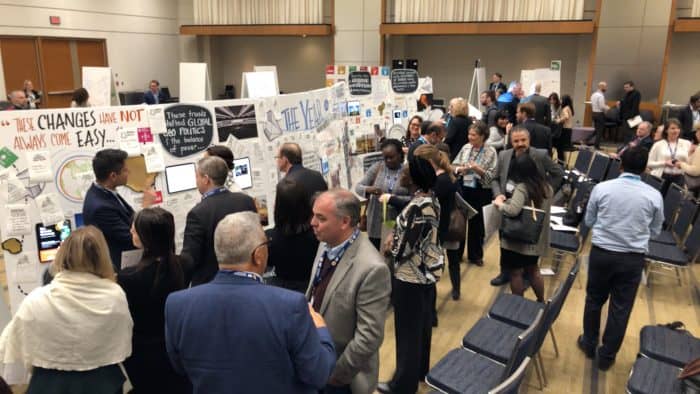 The following were identified as key focal points:
New technology must be implemented alongside just transition
Technology could play a role in facilitating a positive change if managed responsibly. New technologies are already being used across the sector: to digitize data collection, track big data, automate parts of the mining process, and generate sustainable energy for mines. However, the labour implications of these technologies are vast and varied.
Job categories will evolve and skills requirements will change. This will create new and better opportunities for high-skilled labour but will also lead to challenges for those whose jobs will be replaced by machines. It is important that training and skills development programs be enhanced and expanded to enable workers to embrace this technological shift.
Community involvement must happen at a deeper level
Active community engagement must be a priority at each stage of the mining cycle—from exploration to extraction and mine closure. Local communities shouldn't be seen as obstacles to the mining process but as key partners with whom companies and governments should consult and collaborate at every stage. Their voices need to be not only heard but elevated and prioritized in the mining process—only then can the mining industry be a catalyst for socioeconomic development and stability.
Sector silos must be broken down to create holistic change
Finally, there were many who spoke of the need for systemic collaboration. Transformational change in the minerals industry cannot be tackled by the sector on its own; it will require action from multiple stakeholders, working together across silos and levels of governance. Decision-makers in the minerals industry will need to forge relationships with communities and leaders in the health, education, planning, finance, and environmental sectors, among others, to promote sustainability at large. These relationships must be cultivated now, so they can drive the next 25 years of change.
The world is facing interrelated and compounding crises: the climate emergency, dramatic biodiversity loss, gender inequality, infringements on Indigenous rights, and so on. Mining is at the forefront of many solutions to these converging crises: It's integral to the production of renewable energy technologies while also being a significant source of global emissions; it's often a significant employer in Indigenous communities but can also find itself in conflict with them over land and natural resource management; it can have a large impact on local biodiversity, but can also be a key partner in the protection of species and ecosystems; and it is often seen as an activity dominated by men, but opportunities for women are growing rapidly. We should remember that where there is risk, there is often opportunity.
If we want to make the world better in 2045 than it is today, the work starts now.
Read the Meeting Report (English)