Resources
Mining Policy Framework Assessment of Implementation Readiness: Uganda
This report presents the Mining Policy Framework assessment for Uganda, with a view to: helping the government target their efforts in implementing the MPF; informing capacity-building efforts; and allowing for monitoring of progress over time.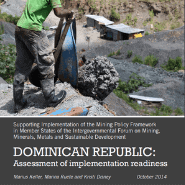 Dominican Republic: Assessment of implementation readiness
This report is the result of desk-based research, and an 11-day field study in the Dominican Republic with visits to mining areas and numerous discussions with a range of stakeholders.
Mining Policy Framework Methodology
This document describes the methodology developed by IGF to assess strengths, weaknesses and gaps in national mining policy frameworks assessed under the MPF.