New Technologies
While technological evolution is nothing new in mining, the coming wave of changes—incorporating digitization, big data, automation, ubiquitous sensors, machine learning, artificial intelligence, and more—is faster and stronger than anything ever seen before.
As high-quality mineral deposits become increasingly scarce, these technologies will help the industry target more complex deposits while improving productivity, worker safety, and environmental management. But they also present challenges to host governments and communities, who may see reduced employment- and procurement-related benefits.
Why is the IGF working on new technologies in mining?

Despite its many benefits, this technological revolution poses five key challenges for policy-makers:




Labour

Supply chains

Gender equality

Artisanal and small-scale mining

Taxation
Labour
The mining sector should brace itself for fewer low- and semi-skilled jobs due to labour-replacing innovations like automation and the Internet of Things.
At the same time, there will be a demand for new and better-paying high-skill jobs, including information technology and engineering.
This will result in a sector-wide restructuring, with some jobs lost while others are redefined or newly created. However, tensions may arise if these new jobs aren't based in mining-affected communities or are inaccessible to locals who may lack the required skills.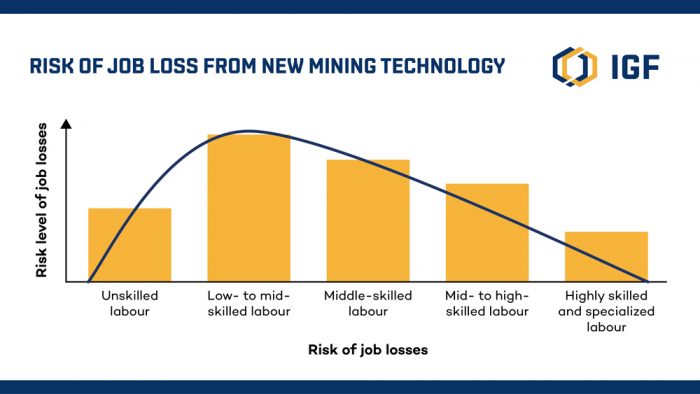 Supply chains
New technologies have already begun to disrupt mining supply chains in many ways, including by reducing the employment-related procurement needs of mining companies; by allowing for more strategic and digitized sourcing; and by favouring suppliers that can provide tailor-made solutions and use the latest technological innovations.
These changes will have profound implications for local procurement strategies for mining companies and local suppliers—who will have to adjust their business models. And as the share of total direct mining employment declines, governments will have to refocus local procurement strategies toward creating indirect employment, thereby supporting economic diversification.
Gender equality
The mining sector has historically been male dominated due to restrictive legal frameworks, cultural barriers, gender-blind policies and work environments, and more.
New technologies in mining can advance gender equality. Creating urban remote operation centres to provide women job opportunities in a safe environment is just one example.
However, some technologies may also jeopardize opportunities for women at the semi-skilled level in mining-dependent communities, while the digital gender divide may shut women out of new technology jobs.
Artisanal and small-scale mining
If low-skilled workers are left out of the new large-scale mining workforce, they may flock to artisanal and small-scale mining (ASM) for survival.
Although their goal will be to maintain their livelihoods, ASM producers may face price pressures from increasingly efficient large-scale operations. While the adoption of basic technologies can improve ASM's efficiency, worker safety, and environmental performance, developing and disseminating new technologies faces many challenges. And some new ASM technologies may displace the low-skilled workers that are the sector's backbone, including women and youth.
Taxation
New technologies can lead to a safer and more efficient workforce, but governments may feel the fiscal burden.
Although the technological evolution should provide higher payroll tax revenues due to higher-paying jobs, this only applies to employees paying taxes in the host country—while the government loses tax revenue from the jobs replaced by technology.
The risk for base erosion and profit shifting will also increase as a greater portion of the mining value chain migrates to providers of new technologies and information services.
What is the IGF doing to help policy-makers adapt to new technologies in mining?
The IGF works with governments and other stakeholders around the globe to support good mining governance through guidance documents and reports, events, and capacity building and technical assistance.
New, Tech, New Deal
In August 2021, the IGF released a flagship report to answer the important questions about new mining technologies: New Tech, New Deal: Mining Policy Options in the Face of New Technology. The report specifically examines how technological developments will affect communities, governments, and mine operators and identifies how governments should respond to promote sustainable development through mining in the future. It surveys four broad types of "new deal" mining policies, that should:
Ensure any new jobs are contestable by locals
Use mining to drive economic diversification outside the mining sector
Rethink tax mechanisms to account for the new realities
Find solutions in the new technologies themselves
English Report
The New Tech, New Deal project was supported by Deutsche Gesellschaft für Internationale Zusammenarbeit (GIZ) on behalf of the German Federal Ministry of Economic Cooperation and Development (BMZ). The project was carried out by the IGF in partnership with the Columbia Center on Sustainable Investment (CCSI) and Mining Shared Value/Engineers Without Borders Canada.
Case Studies
The three case studies below informed the final New Tech, New Deal report and include detailed examinations of how new mining technologies may affect stakeholders in South America's Andean Region as well as Burkina Faso and the Democratic Republic of the Congo.
Other Resources
| | |
| --- | --- |
| In our Technology Impacts Review, the IGF surveyed and catalogued the new technologies sweeping the mining sector and assessed their likely impacts, both positive and negative. | |
| Our Mining a Mirage study evaluated the speed and nature of coming technological changes, as well as economic, social, and political impacts. | |
Events