What happens to a mine after it stops producing? This is an important question for authorities around the world, and Argentina is no exception. The country is well endowed with mineral resources, and mining has historically been an important sector for Argentina. The national government seeks to attract investment and grow the mining sector to boost economic growth while producing critical minerals for clean energy technologies such as copper and lithium.
The Challenge
Financial assurance is a key mine closure policy mechanism for governments. It requires mining companies to allocate the necessary funds for post-mining transition should they be unable to fulfill closure obligations. There are only a few examples globally of mines successfully closed and transferred to a government or third party. Latin American governments are increasingly using national legislation that incorporates financial assurance.
We need policies and guidelines that allow us to produce the critical minerals for electrification and low-carbon energy while ensuring sustainable mine closure procedures.

— Enzo Araya, Subsecretary of Mining Policy, National Mining Secretariat of Argentina
In Argentina, establishing such legislation is complicated because there are multiple sets of mining regulations as the sector falls under provincial jurisdiction. And severe macroeconomic conditions in the country limit the financial instruments available for financial assurance.
At the federal level, the National Mining Secretariat (NMS) understood financial assurance could help provincial policy-makers manage growth while safeguarding the interests of the government and communities.
"We need policies and guidelines that allow us to produce the critical minerals for electrification and low-carbon energy while ensuring sustainable mine closure procedures," said Enzo Araya, Subsecretary of Mining Policy at the NMS.
The NMS is advancing a 30-year strategic plan for mining development in Argentina, developed in consultation with a 100-stakeholder round table. One of the plan's goals is to strengthen the sector through the sustainable and inclusive use of natural resources. Among the objectives set by the round table was to develop environmentally sustainable mining, and the group identified mine closure as a key issue.
The NMS envisioned providing a coherent guideline on mine closure and financial guarantees to help the provinces make sense of international practices as well as the relevant domestic bills, reports, and laws, which offered a vast but incomplete set of tools for policy-makers. Critical aspects were still largely overlooked, such as post-mining transition and key social aspects of closure.
Importantly, due to Argentina's macroeconomic circumstances, officials needed help to identify, understand, and access the best financial instruments available to serve financial assurance in the country.
Our Role
In April 2020, the NMS requested assistance from the IGF on mine closure and financial assurance policy. The IGF worked with the government to design a work program that included:
Reviewing the existing legal and policy framework pertaining to mine closure, including national bills and provincial regulations.
Identifying how international best practices can be adapted to Argentina's unique circumstances.
Studying the legal instruments available in the market to use for financial guarantees.
Analyzing the macroeconomic challenges and COVID-19 impacts on mine closures.
The IGF assembled a multidisciplinary team with experience in international best practices for mine closure, knowledge of the Argentinean mining sector, and applicable financial instruments.
Our Impact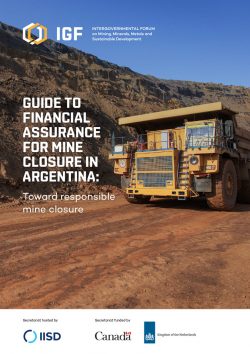 In August 2021, the IGF presented a final report to NMS and other relevant authorities: Guide to Financial Assurance for Mine Closure in Argentina (in Spanish). It provides detailed national and local recommendations for policy-makers on:
Tailored approaches for mines of various types and sizes, for partial and final closures
Technical details for mine closure planning throughout the mining life cycle
Financial assurance instruments available in the country and applicable to various stages of the mining cycle
Lessons from policies in Chile and Peru
The report includes detailed recommendations for mine closure laws in Argentina and recommends short-, medium-, and long-term policy actions.
"We are hopeful these tailored recommendations will be especially useful for policy-makers in charge of regulating and controlling mine closure processes across Argentina," said Araya.
The NMS decided to rapidly transform the IGF's guide into a national regulation that includes guidelines adapted from the IGF's research and recommendations.
The regulation invites provincial and municipal authorities to adopt the guidance in their jurisdictions and instructs the subsecretary of mining policy to assist provinces on implementation through the national mining council.
"The IGF was instrumental to the development of our mine closure guidelines," said Araya. "We have seen encouraging signs that provincial mining authorities are moving to implement the policy, and we are promoting a national regulation."