There was an estimated 40 million people working in artisanal and small-scale mining (ASM) in 2017, with an additional 150 million individuals across 80 countries dependant on ASM as part of their livelihood strategies.
Women represent a large percentage of the ASM workforce—40 to 50 per cent in Africa alone, in fact—working in a range of roles at mine sites, mineral processing facilities and trading locations. Addressing gender equality and equity challenges in the ASM sector is clearly important to positively impact women's economic empowerment.
Women in ASM are often denied access to benefits available to male miners. They experience inferior compensation and are excluded from specific jobs, community consultations, and negotiations with mining companies and authorities. Despite their significant presence in workforces, and regular activity in risk-laden parts of the sector, women's views and needs are not represented.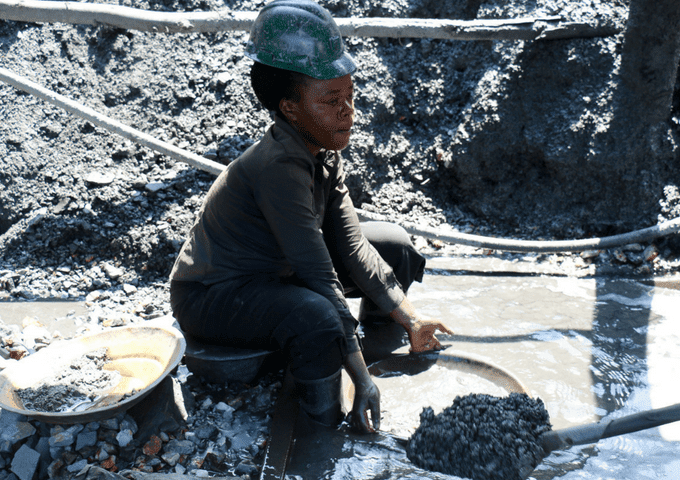 In many households supported by mining, women in ASM are responsible for most domestic activities. However, some women also participate in ASM on a seasonal basis or in times of particular economic hardship. This can lead to over-work and exhaustion. Because women's roles in ASM are typically informal, their work as 'miners' goes unrecognized, which may extend so far as to them not receiving an independent wage separate from that of their husband, or their husband having control over their wages due to cultural norms.
Women often lack rights to their own land, again stemming from cultural and political norms, further hindering their economic independence and making them vulnerable. This leads to an inability to access other resources, such as gathering the collateral to obtain loans, adopting alternative technologies and hiring labour. It can also prevent them from having access to support, such as professional training or educational opportunities. In some cases, it leads to them being forced to migrate, even to different countries, to pursue a job in artisanal mining in order to survive.
Given these immense barriers, how can the ASM sector support female miners and ultimately foster their economic independence?
Evidence shows how women's ASM-related earning supports families, creates new economic opportunities and enhances the status of women overall. Ultimately, an increased proportion of women working means growth in the economy. When women also have access to educational opportunities, they are able to contribute more to the economy. Approximately 50 per cent of economic growth in OECD countries in the past 50 years can be linked to increased educational attainment, of which half was by females.
Providing economic empowerment to women in ASM can also foster their participation in political roles in their communities, positively contributing to their region's economy. In one example in Lao PDR, after a mining company began digging in their region, an increased proportion of women became active in their village committees and began engaging in policies, including schools for local children and corporate social responsibility programs.
Furthermore, supporting women miners can have positive effects on gender-sensitive capacity building. For example, one female miner in Uganda started her career panning, which evolved to buying ore then renting out tools. She eventually became an owner and shareholder of multiple mineshafts. She used her finances to not only educate her children, but also employ others and expand both her mining and farming investments. By providing women with access and training to gain capital to invest in diversifying their source of income, women in ASM can positively contribute to their local economy.
When we enhance gender equality and equity in ASM, social transformations are spurred. This helps women achieve economic independence and allows the sector to continue promoting sustainable development.
This column was researched and written by Stacy Corneau of the Intergovernmental Forum on Mining, Minerals, Metals and Sustainable Development (IGF) and Jack Cooper of Levin Sources. Additional research and editorial was provided by Estelle Levin-Nally and Blanca Racionero Gómez of Levin Sources.
Levin Sources is a UK-based social venture and consultancy dedicated to responsible raw materials mining and sourcing. Through its services in research, advisory, assurance and capacity building, Levin Sources enables its public and private sector clients to add value, manage risks, integrate sustainability, and deliver social, economic, and environmental impacts internationally. For more information, projects and publications, please visit www.levinsources.com