Innovation does not come easily to the mining sector.
In an already conservative business, the costs and risks of true innovation can be hard to justify. However, with companies needing to address inefficiencies in their operations to stay competitive, while ensuring they maintain their social license to operate, it is clear that mining needs to get innovative.
IGF recently released a report, Innovation in Mining: Report to the 2018 International Mines Ministers Summit, which shows how innovation can take many forms. This includes core innovations optimizing existing assets, products or services; adjacent innovations that incrementally expand a business in new areas; and transformational innovations that represent new breakthroughs and inventions for the industry.
Renewable energies—such as solar, wind and geothermal—represent a significant opportunity for clean innovation for the mining sector: the chance for companies to simultaneously reduce their operating costs and their environmental footprint. The broad range of environmental impacts from mining necessitates new, innovative technologies and techniques across a range of areas of operation, including mine site design, production, closure, and chemical and water use.
There are many exciting examples of innovation in the mining sector. Let's take a look at two that specifically show how renewable energy in the mining sector is benefitting communities.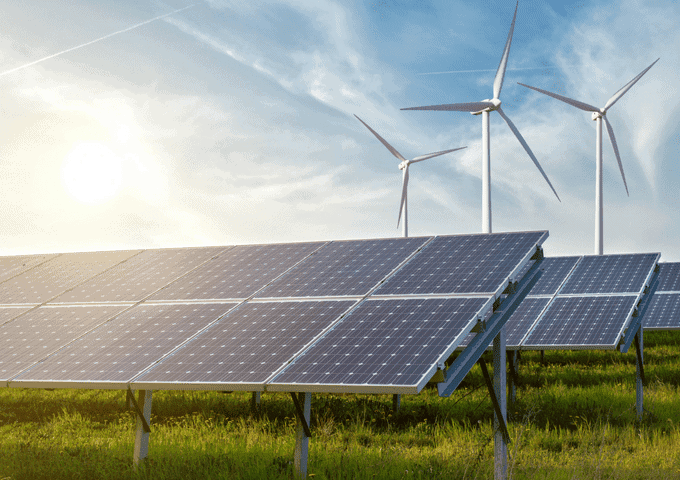 Moving towards solar energy: The case of B2Gold in Namibia
For mining companies operating in Namibia—the world's second sunniest country—offsetting fossil fuels with solar energy makes economic sense. This is what mining company B2Gold has done through their 7-megawatt solar power plant at its Otjikoto mine in Namibia. Working with Caterpillar on this project, B2Gold hopes to reduce the site's reliance on heavy fuel oil and improve its social license to operate by using photovoltaic solar modules and micro-grid technology to generate and distribute solar power.
The system has been constructed as a hybrid energy model in which energy is drawn from the cheapest source at any given time. For example, a connection to the traditional grid allows for the use of traditional electricity at off-peak hours, to take advantage of cheaper night-time tariffs, while solar and heavy fuel oil will power the site during the daytime hours.
B2Gold is exploring options for the project to continue providing power to local communities after the mine closes, and how proceeds from the solar project can fund local development and conservation initiatives, including supporting the creation and management of a new national park near the mine site.
Clean technology contributing to local development: The case of SunMine in Canada
Innovation is not only necessary when a mine is in operation. When faced with the question of what to do with a fully reclaimed mine concentrator site on the outskirts of Kimberley in Western Canada, the municipality worked with a mix of partners to convert the site into a large-scale commercial solar power station called SunMine.
The project, which began production in 2015, is not only the province's largest solar field, it is also Canada's largest solar tracking facility. The energy produced on-site contributes directly to the province's energy grid.
Beyond the innovation of converting a rehabilitated mine site into a solar energy project, SunMine is also a great example of collaboration. The former owners of the site provided the land and site infrastructure, as well as CAD 2 million toward the project. The Province of British Columbia contributed CAD 1 million through its EcoSmart Foundation. BC Hydro also purchases the power going into the grid, and the Columbia Basin Trust and Southern Interior Development Initiative Trust both contributed additional funding and assistance.
The project has the local community's full support and helped develop local skills in engineering and renewables that could be applied elsewhere.
It's difficult to say what the future holds for innovation in the mining sector, given the rapid pace of change currently being experienced by those involved in mining. What is clear, however, is a growing trend for mining companies to embrace renewable energy in their operations at every stage possible, to not only benefit themselves but local communities as well.
To learn more about innovation in mining, please read our report, Innovation in Mining: Report to the 2018 International Mines Ministers Summit.