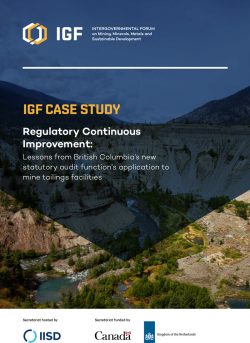 Regulatory Continuous Improvement: Lessons from British Columbia's New Statutory Audit Function's Application to Mine Tailings Facilities
describes a new audit function to evaluate the effectiveness of the mining regulatory framework in British Columbia (BC), Canada, within the provincial Ministry of Energy, Mines and Low Carbon Innovation.
The authors detail the new audit function's development, implementation, and preliminary lessons learned from the initial audit to provide an example to other jurisdictions that are looking at their own efforts for more effective regulatory frameworks.
This case study provides the context for the audit unit's development as informed by lessons learned from the 2014 Mount Polley Tailings Storage Facility breach, a 2016 audit by BC's Auditor General, and substantial research and engagement. These events informed dramatic changes to the ministry's structure and the creation of several new work units.
---
The IGF supports more than 75 member nations committed to leveraging mining for sustainable development to ensure negative impacts are limited and financial benefits are shared. It is devoted to optimizing the benefits of mining to achieve poverty reduction, inclusive growth, social development, and environmental stewardship. The International Institute for Sustainable Development has served as Secretariat for the IGF since October 2015. Core funding is provided by the governments of Canada and the Netherlands.