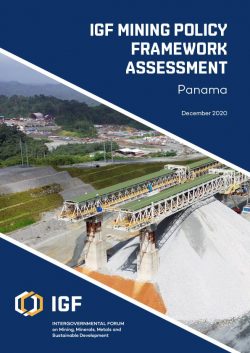 The Intergovernmental Forum in Mining, Minerals, Metals and Sustainable Development (IGF) has published its Mining Policy Framework (MPF) assessment report for the Government of Panama.
"The Government of Panama is committed, through its presidential goals, to strengthening governance in the mining sector," says H.E. Ramón Martínez, Panama's Minister of Commerce and Industry. "The MPF assessment report will be the basis for our improvement efforts in mining-related institutions."
The IGF's report offers specific policy recommendations to help the country leverage its mining sector for sustainable development and is now available in English and Spanish.
"Panama is very well placed to succeed," says the IGF's assessment team leader Marina Ruete. "The government is well aware of the challenges for mining in a country where protecting biodiversity is paramount."
With a world-class copper mine that began producing in 2019, the government expects mining to soon make up 6% of Panama's GDP.  Mining has the potential to become the country's second-largest economic sector, after the Panama Canal, and fund sustainable development initiatives throughout the country.
"Panama wants to establish high environmental and social performance standards to prepare for any future growth in the sector," Ruete says.
Panama faces significant governance challenges related to large-scale operations, as well as informal artisanal and small-scale mining. Like many countries with a young mining sector, the challenges are intensified by a lack of mining-specific expertise in the country.
The government requested the IGF assessment to help identify policy gaps and ensure that Panama's laws reflect international best practices, with a focus on achieving the country's sustainable development objectives. In conducting the assessment, the IGF's team carried out extensive desk-based research and an in-country mission to visit large- and small-scale mines and meet with numerous stakeholders from government, civil society, Indigenous communities, international organizations, and the private sector.
Assessment Highlights
Legal and policy framework
Panama's legal framework is outdated and lacks mining-specific legislation and regulations related to the environment, safety, mine closure and post-closure, and artisanal and small-scale mining. These issues are paramount for sound mining governance and to foster high-quality mining investment.
Establishing a strategic mining-sector strategy would allow for predictable decision making around granting concessions (which is de facto suspended today).
Mine closure
Mine closure, post-closure, and related provisions for financial guarantees are not integrated in Panama's legislation.
If unresolved, this policy gap may allow for large environmental and social liabilities to be borne by the government and public at large in the years ahead.
Environmental management and socioeconomic benefit optimization
There is a lack of policy to ensure adequate supervision of mining operations concerning the environment (water, solid waste, biodiversity, emergency plans) and occupational health and safety.
The government should draw on international experts to support implementing new regulations and to share knowledge to develop local capacity.
Financial benefit optimization
The government needs to build capacity to effectively collect taxes and royalties from mining operations and establish transparent processes for distributing mining revenue.
Coordinating the tax administration and mining authority is important to ensure they can have a better technical and financial understanding of mining projects.
---
The IGF supports more than 75 member nations committed to leveraging mining for sustainable development to ensure negative impacts are limited and financial benefits are shared. It is devoted to optimizing the benefits of mining to achieve poverty reduction, inclusive growth, social development, and environmental stewardship. The International Institute for Sustainable Development has served as Secretariat for the IGF since 2015. Core funding is provided by the Government of Canada.