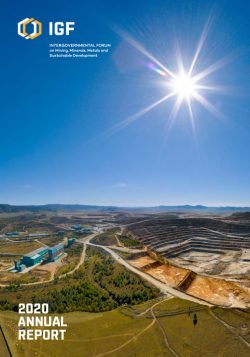 The Intergovernmental Forum on Mining, Minerals, Metals and Sustainable Development (IGF) has released its 2020 Annual Report, which describes a productive year amid disruption and hardship stemming from the COVID-19 pandemic.
The report outlines how the IGF Secretariat adopted a new, virtual-only mode of operating in the face of office closures and restrictions on gatherings and global travel. Encouraged by the strong virtual engagement from member country officials and other stakeholders, the IGF successfully delivered policy guidance, technical assistance, capacity building, events, and crisis-specific resources to support international best practices in mining governance.
Highlights from 2020
Two new members (Armenia and Sweden)
A new guidance document (ESIA)
Two Mining Policy Framework assessments (Jamaica and Panama)
Virtual 16th Annual General Meeting
15 webinars with 1,500+ attendees
26 workshops with 850+ participants
Two e-learning courses (gender and local content)
---
The IGF supports more than 75 member nations committed to leveraging mining for sustainable development to ensure negative impacts are limited and financial benefits are shared. It is devoted to optimizing the benefits of mining to achieve poverty reduction, inclusive growth, social development, and environmental stewardship. The International Institute for Sustainable Development has served as Secretariat for the IGF since October 2015. Core funding is provided by the Government of Canada.