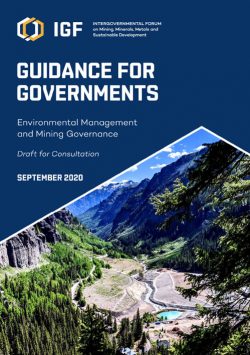 The Intergovernmental Forum on Mining, Minerals, Metals and Sustainable Development has released the first draft of its forthcoming Guidance for Governments: Environmental Management and Mining Governance which is designed to help IGF member states implement the IGF's Mining Policy Framework (MPF).
This guidance focuses on the role that national governments can play to ensure the effective and sustainable management of the environment and natural resources by the mining sector, using the legislative, regulatory, and policy tools and mechanisms at their disposal. The guidance covers what governments must do before, during, and after mining to ensure that the environment and its natural resources are continuously well managed. Drawing from the MPF, it highlights the key issues, benchmarks, and standards in four main areas of environmental management in mining—water, biodiversity, waste, and emergency preparedness and response—and the role of governments in ensuring that each is effectively managed in support of sustainable development.
Consultation
The IGF invites members and all stakeholders to review the draft guidance and submit written feedback. The guidance drafting team is looking for feedback on all content and will use the results from this consultation to produce a final document that will help governments improve their environmental management governance in the mining sector. Please submit feedback to IGF at secretariat@igfmining.org by December 11, 2020.
---
The IGF supports more than 75 member nations committed to leveraging mining for sustainable development to ensure negative impacts are limited and financial benefits are shared. It is devoted to optimizing the benefits of mining to achieve poverty reduction, inclusive growth, social development, and environmental stewardship. The International Institute for Sustainable Development has served as Secretariat for the IGF since October 2015. Core funding is provided by the Government of Canada.