The global artisanal and small-scale mining (ASM) sector employs an estimated 45 million people and indirectly supports 150 million. Two new publications aim to help policy-makers and researchers better understand the difficulties that women face in ASM to support better environmental and social performance in the sector.
"We know that women are marginalized in ASM. They are restricted to poorly paid roles, excluded from decision making, and often carry the double burden of working in and outside of their households," said Ashley Smith-Roberts, a Specialist with Levin Sources who co-authored the new reports for the Intergovernmental Forum on Mining, Minerals, Metals and Sustainable Development (IGF).
Gendered Impacts of COVID-19 on Artisanal and Small-Scale Mining
The COVID-19 pandemic has negatively affected the livelihoods of many people, and this is especially true in informal sectors like ASM where government reach and support are limited. Government travel restrictions aimed at combating the virus's spread disrupted mineral supply chains and, in some cases, collapsed prices for minerals produced by ASM operations.
"While these disruptions hit the whole ASM sector, our report shows how things unfolded for women on ASM sites and in affected communities," Smith-Roberts said. "Women were more likely to be laid off in some countries because their assigned roles tend to be seen as peripheral and unnecessary in the face of restricted access to ASM sites during the pandemic."
Moreover, Gendered Impacts of COVID-19 on Artisanal and Small-Scale Mining (available in English, French, and Spanish) outlines how the pandemic and related responses have served to exacerbate established gender inequities concerning pay, access to finances and land, gender social norms, and a lack of social services and support systems.
The report examines the unique ways the pandemic played out for women in ASM in Peru, the Philippines, and Zimbabwe. One case study looks at how women who collect residual gold ore along mountainsides in Peru, known locally as pallaqueras, experienced increased vulnerability when pandemic measures disrupted their work, which authorities deemed non-essential.
"Despite these disadvantages, ASM has continued to be a critical source of income and livelihood for women during the pandemic," Smith-Roberts said.
This report ultimately provides a list of tools and policy options that can guide national and local governments in creating gender-responsive policies to mitigate the negative pandemic effects on the ASM sector, including by deploying rapid gender assessments and using granular, gender-disaggregated data for gender analyses. Importantly, the report emphasizes the need to allocate adequate financial resources to gender-sensitive initiatives.
Gender in Mining Governance: An annotated bibliography for artisanal and small-scale mining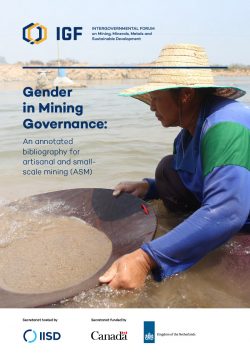 While a lack of gender-focused research on ASM remains, the IGF's new annotated bibliography aims to close this knowledge gap by bringing together some of the latest research on the topic.
Gender in Mining Governance: An Annotated Bibliography for Artisanal and Small-Scale Mining provides an overview of key resources published in the past decade. Entries were assessed for inclusion based on their adequate coverage of the issues and usefulness for policy-makers and practitioners.
The bibliography includes 70 resources, including academic papers, toolkits, policy documents, and civil society and consultancy reports. The items focus on Africa, Asia, Oceania, and South America and include case studies that present learnings with wide applicability.
The authors of the cited publications detail the highly unsafe conditions and challenges faced by women in ASM, but they also highlight the socio-economic benefits that women receive from their engagement in these spaces and provide guidance on achieving greater visibility, more nuanced understanding, and stronger support to women in ASM.
Learn more about the IGF's work on gender equality.
For more information, please contact David Perri, Senior Communications Officer for the IGF, at dperri@iisd.ca.
---
The IGF supports more than 75 member nations committed to leveraging mining for sustainable development to ensure negative impacts are limited and financial benefits are shared. It is devoted to optimizing the benefits of mining to achieve poverty reduction, inclusive growth, social development, and environmental stewardship. The International Institute for Sustainable Development has served as Secretariat for the IGF since October 2015. Core funding is provided by the governments of Canada and the Netherlands.