Post-Mining Transition
A mining operation which is considered consistent with sustainable development is one whereby planning for closure is present during the entire operation of the mine. A mine's life is a five-part cycle. Stage one is mine planning, concerned with exploration and pre-feasibility studies. Stage two is construction, followed by operations in stage three. The fourth stage looks at closure, and the fifth stage focuses on post-mining transition.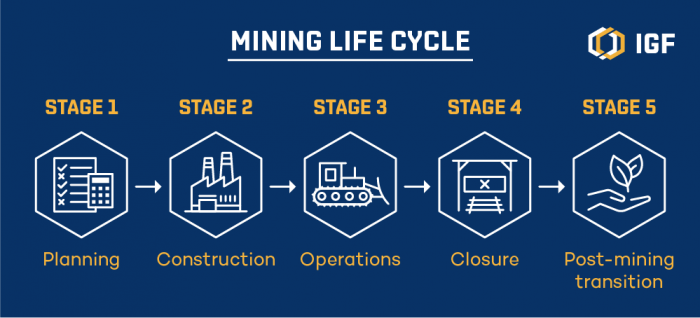 Closure planning, progressive rehabilitation, and stakeholder engagement actively take place throughout each of the five stages, from a more conceptual level in the early stages of the mining project to more detailed planning and progressive closure implementation during operations.
Effective post-mining transition ensures closed mine sites provide environmental and social benefits for nearby communities and beyond. Success depends on planning for closure early and making closure a priority throughout the mining lifecycle.
Consistent with its Mining Policy Framework, the IGF works with its members on post-mining transition with a focus on three aspects of closure governance.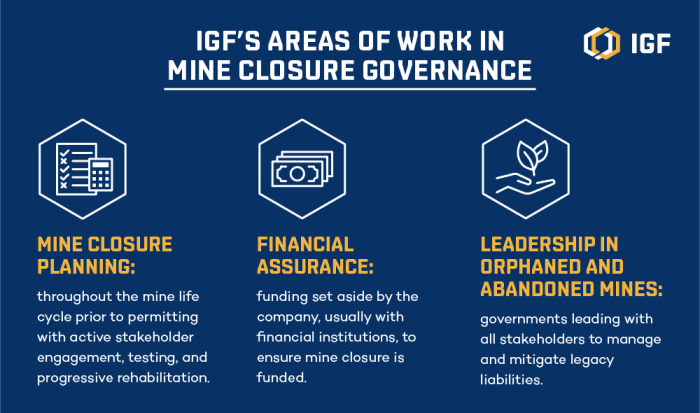 The right decisions early in a mine's life can lead to more closure options and better outcomes related to a community's access to resources, water quality, biodiversity, and more. Post-mining transition builds trust in the sector, giving governments and local communities the confidence to know a mining project will be closed responsibly at the end of its operating life.
The following publications present case studies and guidance for governments related to mine closure and post-mining transition.
Mine Closure Checklist for Governments
 
Mining Project Rehabilitation and Closure Guidelines: Papua New Guinea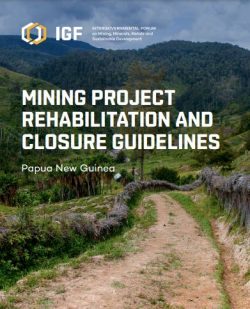 Case Study | Mine Closure Policies in South America
Case Study | Achieving a Successful Post-Mining Transition with Renewable Energy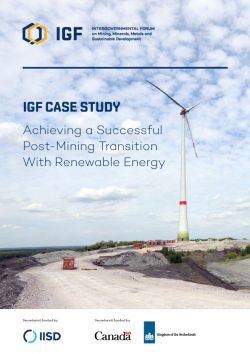 Current Status of Mine Closure Readiness: Are governments prepared?
Guide to Financial Assurance for Mine Closure in Argentina: Toward responsible mine closure
Global Review: Financial assurance governance for the post-mining transition