Executive Committee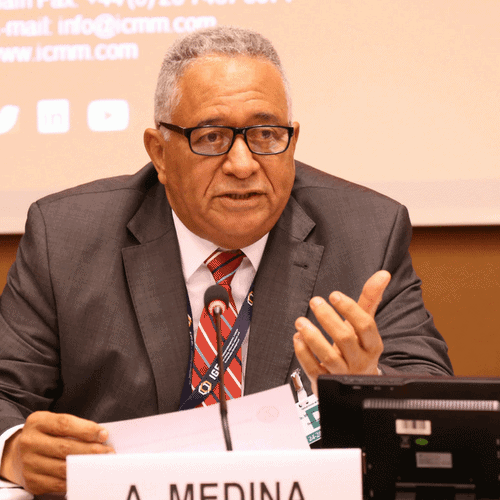 Alexander Medina Herasme, Chair – Dominican Republic
Mr. Alexander Medina Herasme was elected as Chairman of the IGF Executive Committee at the 2017 AGM. Medina Herasme has been the Director General of Mining in the Dominican Republic Ministry of Energy and Mines since 2012, where he is responsible for the supervision of all mining activities in the country. He has more than 40 years of experience in the mining industry, academia and government.
He joined Falcondo, a large nickel mine subsidiary of Falconbridge Ltd. in 1975, occupying several managerial positions in that company including Strategic Business Manager, Communities and PR Director, Energy Manager, Project Manager for Energy Conversion and Corporate Environmental Director at the corporate office of Falconbridge in Toronto before his departure in 2009.
Medina Herasme has a bachelor degree in Chemical Engineering from Instituto Tecnolgico de Monterrey in Mexico, a MBA from Instituto Tecnológico de Santo Domingo (INTEC) and an Executive Mining Management Course from Queens University in Ontario, Canada. He has also been a professor in the Chemical Engineering School at Santo Domingo University (UASD).
Gudrun Franken, Germany
As head of the Mining and Sustainability unit at BGR, Gudrun Franken advises the German government, industry and the public on issues related to responsible mining and sourcing of minerals. Major current issues include capacity building through development cooperation in the mining sector, mainly for mining authorities, along with sustainability standards and certification in mining and mineral supply chains.
Gudrun worked for a decade in International Development Cooperation at BGR on project management of technical cooperation projects, mainly in the water and the mineral resources sector in Africa and Asia, prior to being appointed head of the mining and sustainable unit in 2009.
She has also worked as an advisor to the German Ministry of Economic Cooperation and Development on issues of mineral resource governance.
Gudrun was appointed to the IGF's executive committee in 2015. She has been a member of the OECD Multi-Stakeholder Steering Group (MSG) since 2012. That group supports the implementation of the OECD Due Diligence Guidance for Responsible Supply Chains of Minerals from Conflict-Affected and High-Risk Areas.
Gudrun studied environmental sciences and afterwards obtained a PhD in Geosciences from the University of Hannover, with research in Germany and Canada on contaminant transport in ground water.
Vincent Kedi, Uganda
Vincent Kedi is a Principal Engineer (Mining) at the Ministry of Energy and Mineral Development of Uganda. He is a Master of Engineering Science graduate in Geotechnical Engineering and Engineering Geology from the University of New South Wales, Sydney – Australia and has served in Uganda's Energy and Mineral Sector as a geologist, geotechnical engineer as well as an Engineering Geologist. Presently, Vincent is involved in Licensing and Administration of Uganda's Mining Sector. He is also the Program Manager for the implementation of the Sukulu Phosphate and Steel Mining Project in Eastern Uganda and the Country Focal Point for Development Minerals. He previously worked in Rio-Tinto's Northparkes Mine as a Graduate Geotechnical Engineer and holds other qualifications in Mineral Policy, Law and Taxation.
Mandakhbat Sereenov, Mongolia
Mandakhbat Sereenov is a Legal Counsel of the Ministry of Foreign Affairs Mongolia based in Ulaanbaatar. Mandakhbat provides legal advice to the Minister and the National secretariat for development of the second compact agreement between the government of Mongolia and the USA Millennium Challenge Corporation. Mandakhbat has been involved in negotiating Mining Investment Agreements with mining companies, Investment Protection and Promotion Agreement with foreign governments. He also has actively involved in drafting Mining related laws, regulations and policies of Mongolia.
Mandakhbat is a lawyer specialized in natural resources, investment and arbitration law. Mandakhbat has a Bachelor degree in law from People's Friendship University of Russia and Master's degree in law from the University of Melbourne. Mandakhbat has previously worked with the Mongolian Ministry of Mining and Heavy Industry, heading the Legal Department and he also used to work for the Ministry of Justice and Home Affairs as a Deputy Director of Legal Policy Director, managing the legal reform of the country.
Roberto Sarudiansky, Argentina
Roberto Sarudiansky earned his Geology degree in 1971 at the University of Buenos Aires. He began his career in the private sector as a mining exploration geologist. He worked both at the Federal Investment Council (1975-1993) and the Institute of Mining Technology –INTEMIN (1994-2000, and since 2016 as Director).
Between 2000 and 2001, he worked as head of the International Relations Department in the Mining Secretariat of Argentina. He was Advisor of the Annual Conference of Mining Ministries of the Americas (CAMMA, 1996-2005) and he also represented that organization in the preparatory process and in the World Summit on Sustainable Development. Since May 2017 he coordinates the Executive Committee of CAMMA. He was President of the National Geologist Professional Association of Argentina (1988-1990) and General Secretary of the Latin American Mining Organization (OLAMI, 1996-1998).  He currently coordinates the Center for Sustainability Studies of the National University of San Martin. He is Vice President in the Board of the Expert Group on Resource Classification of the Economic Commission for Europe of the United Nations. He participates the Argentine Platform for Dialogue "Mining, Democracy and Sustainable Development" and in the Latin American Dialogue Group. He is member of the Executive Committee of the Intergovernmental Forum on Mining, Minerals, Metals and Sustainable Development. Also integrates the Steering Committee of the EU-Latin America Mineral Development Network Platform (MNDP) project. He is President of the EMPREMIN Foundation.
Dr. Rokhaya Samba Diene, Senegal
Dr. Rokhaya Samba Diene is a geological engineer by training from the Institute of Earth Sciences. She holds PhD in Applied Geology from the University Cheikh Anta Diop, Dakar, Senegal (UCAD). She specialized in Mining Public Administration (CESAM) from the Ecole Nationale Supérieure des Mines de Paris and is a holder of an  Executive MBA in Advanced Finance and Management from the Polytechnic University of West Africa (UPOA) in Dakar.
She successfully completed the training on Mineral Resources Regulation and Management at Curtin University, Western Australia, and the "Mining Policy and Trade Negotiations" course from the African Institute for Economic Development and Planning (IDEP) in 2012.
Previous to her current position as Director of Mining Prospection and Promotion since 2015, she was Head of the Documentation Centre and Mining Cadastre of the Directorate of Mines and Geology (DMG), Head of the Mines and Quarries Division, Head of the Regional Department of Mines and Geology in Dakar. Dr Diène coordinated the Africa-Europe Georesources Observation Project (AEGOS), the Institutional Diagnostic Program of the Ministry of Mines as well as the Diagnosis of the Legal and Tax Framework of the Mining Sector.